June 9, 2010 | 3 Comments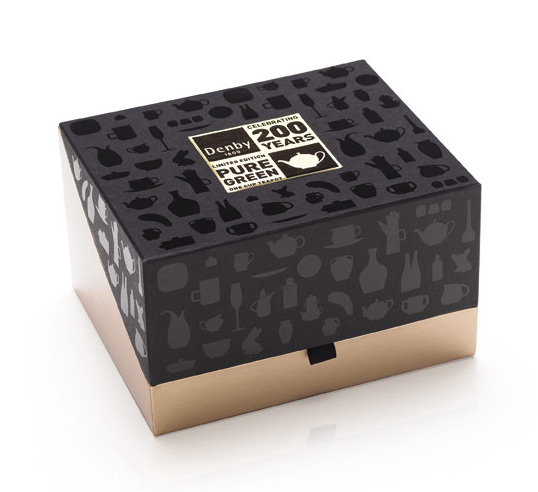 Designed by Acrobat | Country: United Kingdom
"Denby celebrate their 200 year anniversary in 2009. We were privileged when asked to create the Bicentenary branding, POS and some very special packaging for this important event."
June 8, 2010 | 1 Comment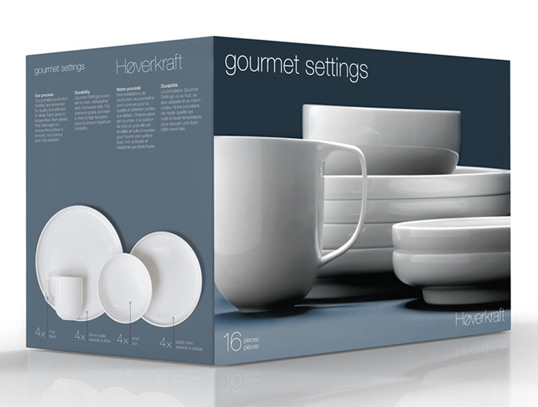 Designed by Monnet Design | Country: Canada
"To introduce Gourmet Settings' bold new line of Høverkraft dinnerware we decided to highlight the beauty and simplicity of the pieces. High-contrast, close-up photographs do the talking on the front of the box. Informative, no-nonsense copy on the sides explains the features of the dinnerware as well as the steps taken in designing and manufacturing each piece. The straightforward elegance of the box sets it apart from the cluttered look of the competition."
May 26, 2010 | 4 Comments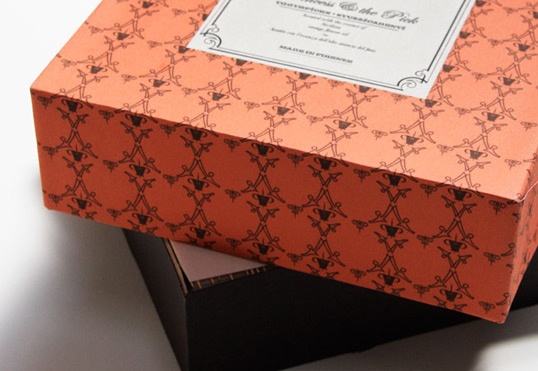 Designed by Amrita Marino | Country: United States
"This project's purpose was to take a product from a 99 cent store and repackage it as a luxury brand. I chose a toothpick for the project. My research indicated that the toothpick used to be a luxury item in Europe during the renaissance and simply created a brand based on that idea. I selected the name Princess and the Pick as a tangential reference to the Princess and the Pea, the fairy tale by Hans Christian Andersen. The basic story is that of an Italian princess and her marriage dowry that consisted of scented toothpicks. This heritage is still continued in the brand today."
May 24, 2010 | 2 Comments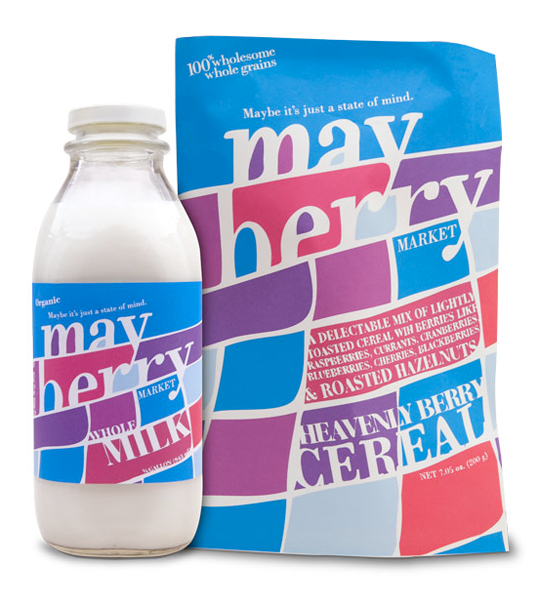 Designed by Vitor Saleh | Country: United States
Thanks to Vitor for sending in some of his student work. Vitor will soon be graduating from New York's Fashion Institute of Technology.
"Mayberry Market takes the consumer on a serene walk to a place where food is healthful and delicious."
May 10, 2010 | 1 Comment
Designed by Visualingual | Country: United States
"Practice random acts of gardening with these seed bombs! Five gumball-sized balls are packed into each 3 x 4 1/2-inch pouch, ready for gift-giving. The muslin bags were made in the USA and screenprinted by hand by us with the East Coast Seed Bombs design. Inside each pouch is the full list of the seeds included. When you've used up the seed bombs, reuse the pouch or frame it!"
May 9, 2010 | 4 Comments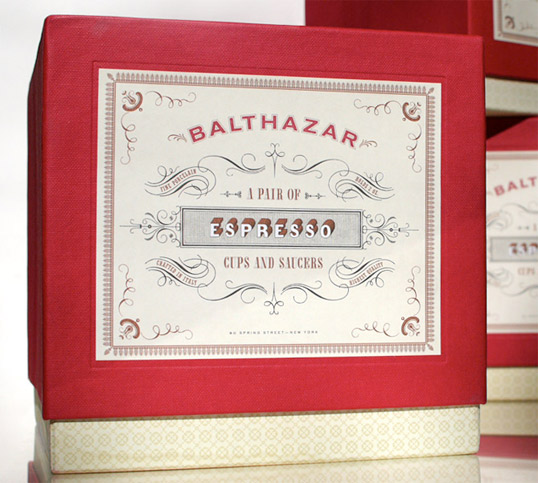 Designed by Christine Celic Strohl at Mucca Design | Country: United States
Using the previously established and infamous Balthazar brand identity system as a starting point, this gift box was designed to expand the system to encompass higher-end retail merchandise. Packaging for a specialty pair of espresso or cafe au lait cups, it was intended to be held on to for as long as the gift inside. Tipped-in, silk screened and wrapped in red linen, this box holds the product safely nestled within custom printed tissue paper.
May 5, 2010 | No Comments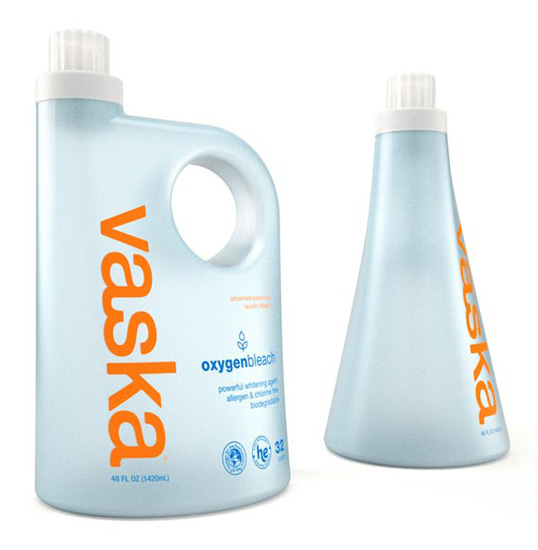 Designed by Tomorrow | Country: United States
"Beautiful and simple design from California based Tomorrow paired with a unique structural design from Studio Backs. Vaska is an all-natural detergent which uses herbal cleaning agents to fight germs and remove soap residue that damages fabrics and causes skin irritation."
May 4, 2010 | No Comments
Designed by Kenny J. Huang | Country: Canada
"4th is a one-of-a-kind kitchenwarestore located on West 4th Avenue in Kitsilano, Vancouver BC. All their goods are carefully handcrafted and unique. Each package tells a unique story about the products."
April 7, 2010 | 3 Comments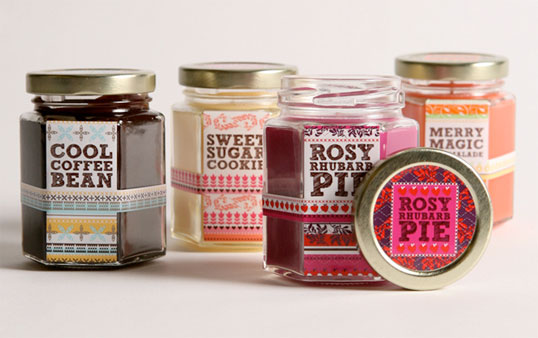 Designed by Joy Deangdeelert Cho | Country: United States
"Design for a series of candles that evoke homemade preserves."
April 3, 2010 | 1 Comment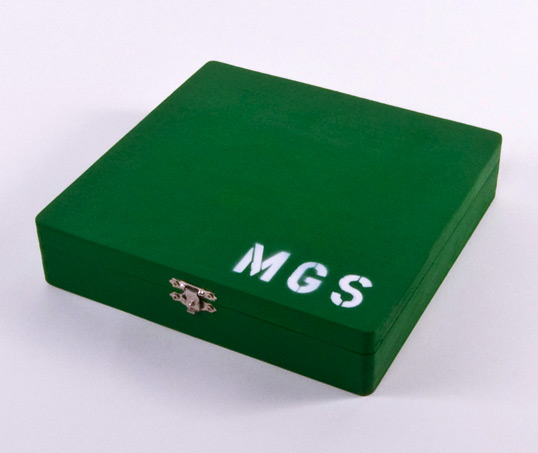 Designed by Cody Boehmig | Country: United States
A collection of work from Cody Boehmig who will be graduating from the Maryland Institute College of Art in Blatimore in May.