December 16, 2011 | 2 Comments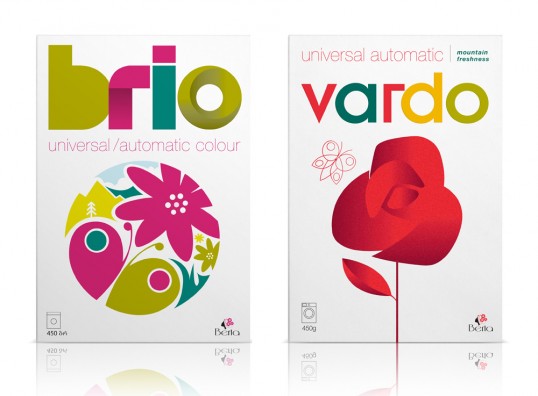 Designed by Studio h | Country: United Kingdom
"Branding and packaging design by Studio h for Brio and Vardo, two new brands for the first detergent products to be manufactured in Georgia. Aimed initially at the Georgian market and their neighbouring countries, it was important that Brio and Vardo appealed as local brands reflecting their Georgian provenance and at the same time competed on shelf with the large global competitors. Standing aside from the industry norms Studio h concentrated on using symbolic imagery to create an emotional link to the culture. The branding for Vardo uses a rose, Georgia's national flower. Brio's circular illustration reflects the mountains and trees of Georgia's landscape and the colour palette references the natural hues of the Southern Black Sea region."
November 9, 2011 | 1 Comment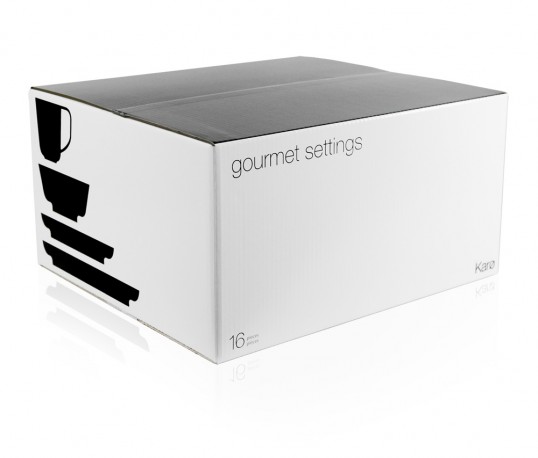 Designed by Monnet Design | Country: Canada
"A new box we designed for Gourmet Settings. This is an example of possibly the most inexpensive and standard structure made to look elegant – a simple, bold solution to shipping online web orders of Karø dinnerware."
November 1, 2011 | 5 Comments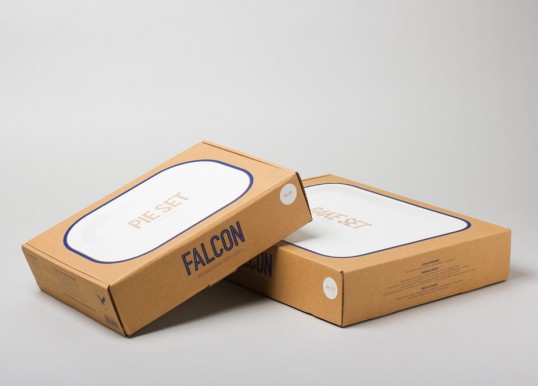 Designed by Morse Studio | Country: United Kingdom
"Falcon Enamelware has been an icon of British home life since the 1920s. The classic kitchenware brand has been revitalised with a new brand identity and updated ranges by Morse Studio & Kiwi & Pom.
We were commissioned to create a new brand identity including logotype, packaging, art direction and e-commerce website design. Our identity rigourously references Falcon's distinctive blue rim, from the creation of a bespoke, inline typeface to the overhead food photography. The packaging takes the same uncomplicated approach. Simple half-tone illustrations are screen-printed on sturdy corrugated cardboard referencing the utility and charm of hardware shop packaging. An updated 'falcon in flight' crest acts as a seal of authenticity on every product."
September 26, 2011 | 6 Comments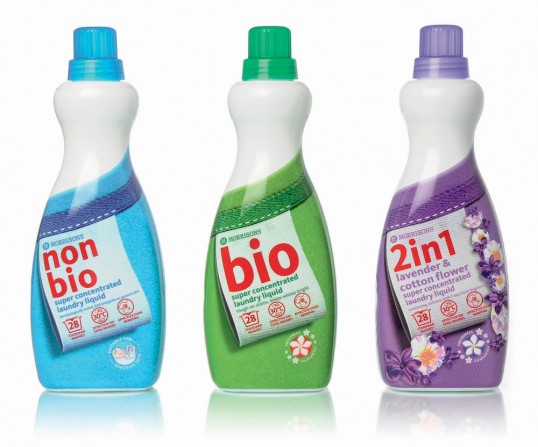 Designed by Stocks Taylor Benson | Country: United Kingdom
"Brief: laundry care is a complex segment. With a huge array of product types and product formats, the key to solving the brief was to clarify and simplify on pack messaging and create shelf standout for consumers.
The various product types (e.g. Bio, Non Bio, 2 in 1s and Colours) and their benefits are the key messages. Then within each type a variety of different formats are available (tablets, capsules, powders, liquids and gels and super concentrates).
Creative Solution: steering away from the rather dated category norm imagery of flowers, butterflies, mothers hugging children and scientific whooshes, the revamped range focuses on a simple, strong design concept that mimics fabric care labels found on clothing. This ties the complete range together and still allows for the important differences between product type and format to be clearly identified.
This 'label' design concept cleverly allows further key messages to be conveyed. The background fabric changes for product type. For example, a soft fleece fabric is used for Non Bio. Secondary messages, such as number of washes and washing temperatures, are displayed as icons done in the style of washing instructions found on clothing labels.
In a world populated all too often with copycat design when it comes to own label packaging, the goal was to break convention and create category busting designs that will clean up against the competition."
September 18, 2011 | 2 Comments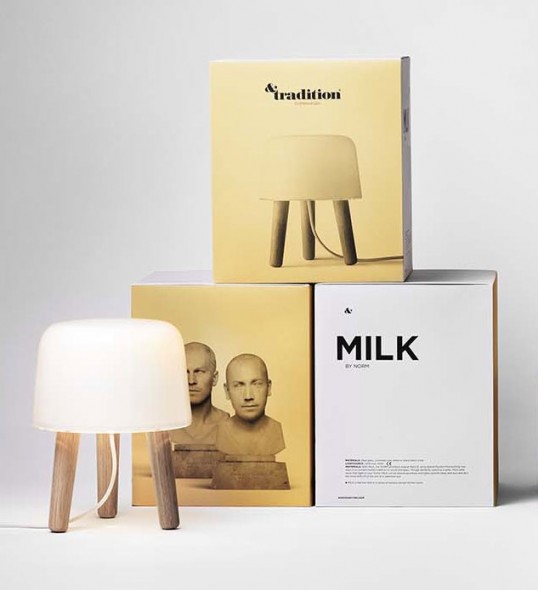 Designed by & Tradition | Country: Denmark
"Craft meets art. Function meets form. Material meets potential. This is our Nordic tradition and heritage. &Tradition aims to bridge these values to contemporary design, reshaping, redefining and reinventing materials, techniques and forms. &Tradition covers the masters of yesterday, the leading designers of today and the talent who may create the classics of the future. We scout for design talent and handpick production facilities globally. But our roots are still Nordic. We respect nature that provide our raw materials, and we believe in design that is made to last."
September 17, 2011 | 1 Comment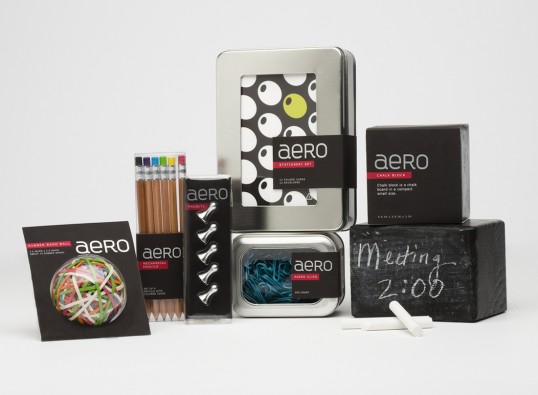 Designed by Caroline Saridewi, Gina Chang, Molly Weber & Sanna Luuka | Country: United States
"This project began with a question, If Target opened up a higher end store to compete with Crate & Barrell and WIlliam Sonoma, then how would they brand their products? Aero is the answer.
Aero is the line of branded house products that would be sold in Aero Stores. The line of departments are endless, however, we focused on office and performance products.
Aero store is targeted to deliver upscale quality home products and services in a friendly and sophisticated way. This store will be catered more to city dwellers and those who can choose to live a comfortable more rustic and modern design lifestyle. Aero's brand promise is to consistently deliver the highest quality, design forward products to our shoppers. Our commitment is to provide our guests with a superior shopping experience.
Taught under Michael Osborne at Academy of Art San Francisco."
September 13, 2011 | 8 Comments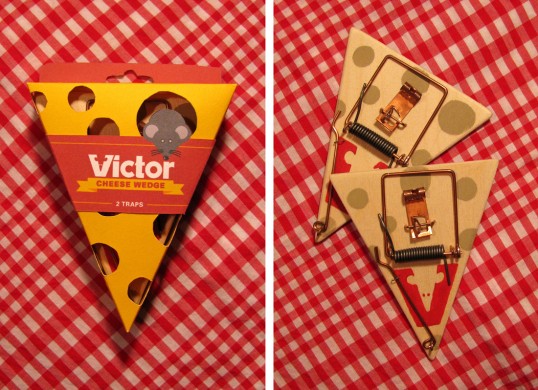 Designed by Kyle Hebert | Country: United States
"Cheese! This conceptual project draws inspiration from a mouse's favorite food to package itself in a unique and creative way. Giving the Victor brand a new and fresh look, the Victor Cheese Wedge would put a smile on the customers face at a time when it is most needed. Each package contains two wedge shaped mouse traps that can been seen through its swiss cheese inspired holes."
September 13, 2011 | 1 Comment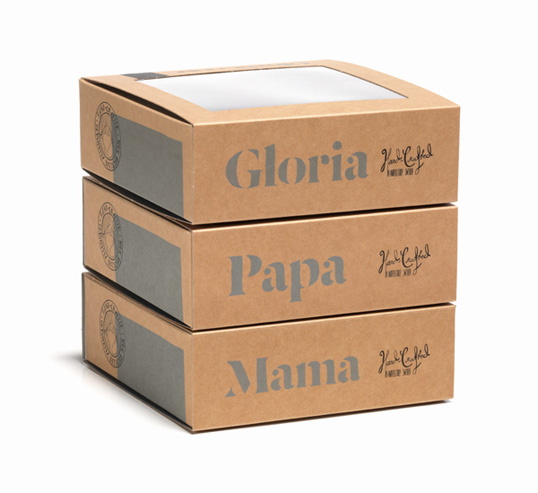 Designed by Bedow | Country: Sweden
"Packaging concept for a series of handcrafted wall hooks by Essem Design. The hooks—Mama, Papa and Gloria—are casted from recycled aluminum in Anderstorp, Sweden."
August 28, 2011 | 4 Comments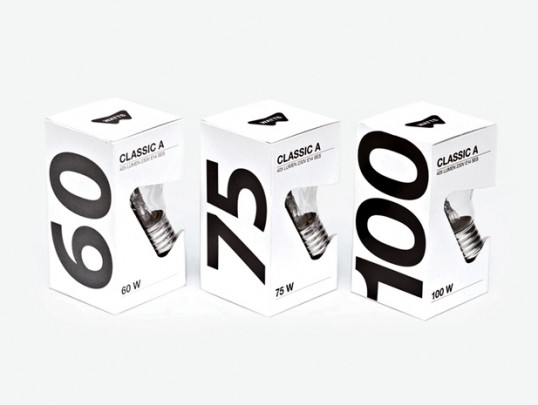 Designed by Valentin Bussard | Country: Switzerland
"Packaging and innovative light bulbs with three simple lines 60 watts, 75 and 100 available in 3 colors. By keeping the dimensions packaging standard, two cuts on an angle can change complete the look of the package and provides an opportunity for customers to view the bulb being as well protected as in a conventional box."
August 22, 2011 | 6 Comments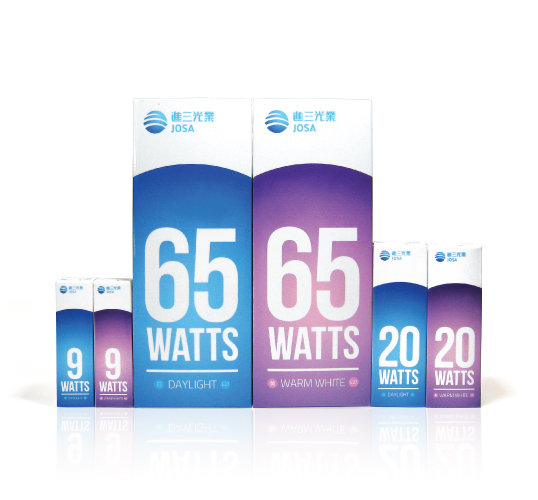 Designed by TGIF | Country: Hong Kong
"JOSA light bulb – A bold and contemporary approach for the packaging is designed to created a strong visual attention in the market. The use of cold and warm colors are picked to classify the lighting products."