May 22, 2014 | No Comments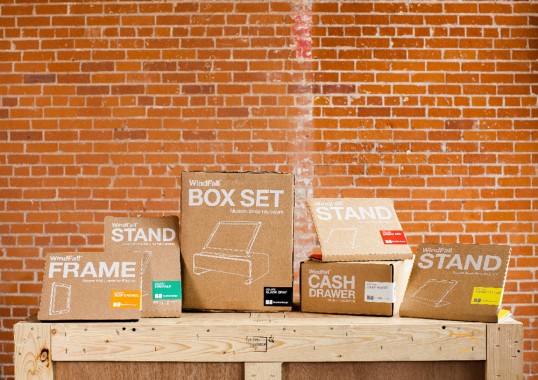 Designed by RMA | Country: United States
"We were tasked with updating existing direct to consumer packing for Heckler Design.Maintaining the brand ideals of using honest, simple and functional materials was of utmost concern. The design was created to be flexible enough to adapt the many variations of products, both color and supported device. We were able to do this using a clean one color design that's not dependent on a different package for each color or device variation. We designed labels too quickly help identify the product color and also allow for quality assurance sign offs, while adding life to the overall look."
March 27, 2014 | 2 Comments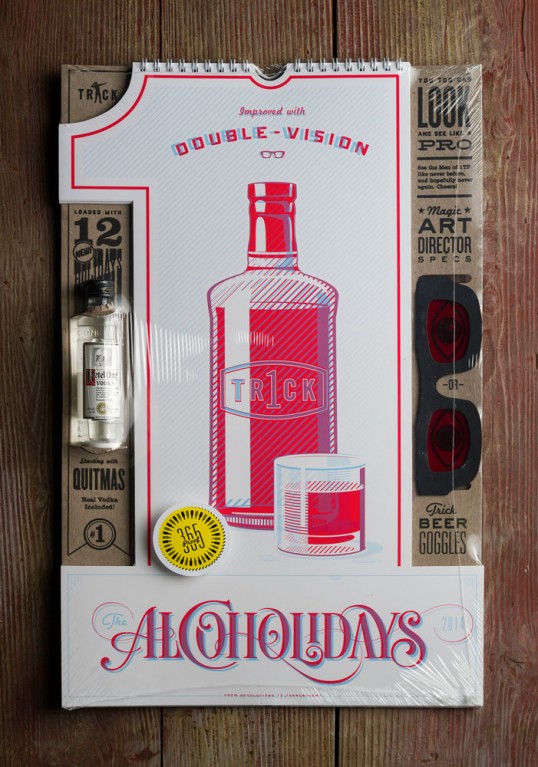 Designed by One Trick Pony | Country: United States
"This is the 10th year our agency is celebrating the "Alcoholidays," so we had to commemorate the occasion in true, ridiculous, and overthe- top style. We created 12 new holidays for our clients to celebrate throughout the year, casted different men from the agency as models for each month, and put the ladies in control to flip the pin-up calendar stereotype on its head. We wrapped the whole thing up in a 2-color overprint technique that required custom decoder glasses to see, and bound it on a die-cut chipboard that was silkscreened inhouse. The result was 365 days full of Alcoholiday cheer."
March 25, 2014 | 2 Comments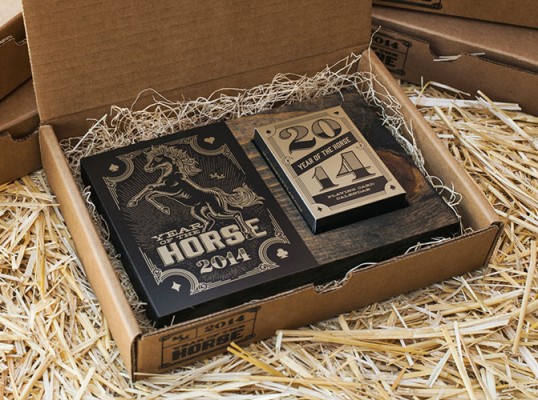 Designed by MM Identity Lab | Country: United States
"Every year, MM Identity Lab produces a calendar that correlates with the Chinese Zodiac. Because 2014 is the Year of the Wooden Horse, we decided to create a poker-inspired desk calendar that doubles as a deck of cards. The woodcut-style illustration and wooden holder play off of the Zodiac. 12 of the 52 cards in the deck represent the 12 months in the year and correlate with the four seasons. These calendar cards can be displayed on the wooden holder to guide a person through 2014. Come the next year, the calendar can hang around as a custom-designed deck of playing cards."
April 26, 2013 | 1 Comment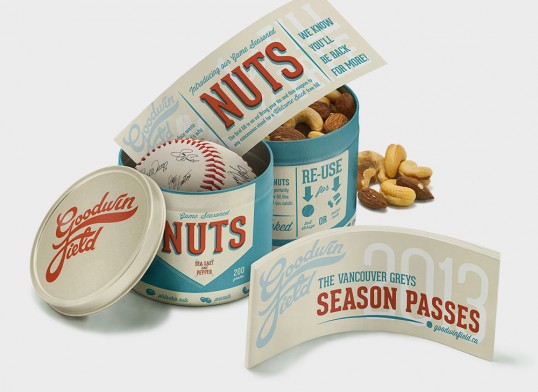 Designed by Allison Chambers | Country: Canada
"In addition to brand development, this project called for creating a strategy to reduce packaging waste at baseball games. Nostalgic script from by-gone days inspired the logo. Fans can re-use their 'Game Seasoned Nuts' tin game after game, or even store a prized baseball. Season ticket holders get the branded tin holding their tickets, a coupon for nuts, and a baseball signed by the players. The goal of the project is to increase loyalty and fan base, while developing a sustainable, environmental solution."
March 1, 2013 | 1 Comment
Designed by Nomon Design | Country: Spain
"Project for a writing set line by the fashion designer David Delfín. Graphic design applied to the product. Creation of the structural packaging and POP display."
December 26, 2012 | 1 Comment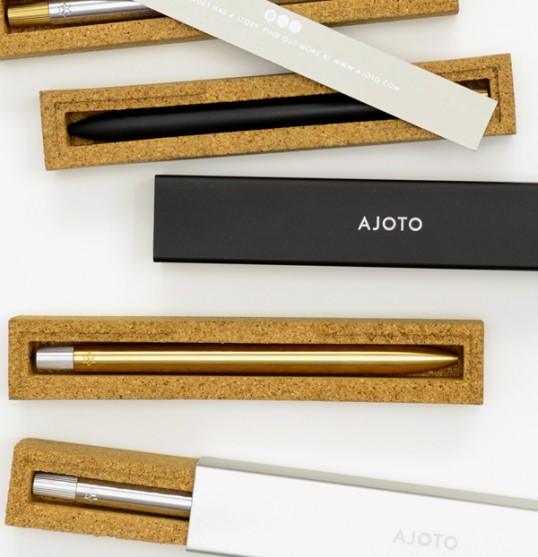 Designed by AJOTO | Country: United Kingdom | Kickstarter
"As a small team of 3 guys we've spent over a year and half developing every element of AJOTO and the Pen, finding the best manufacturers in the world to work with and refining each detail so it couldn't be any other way. basically we wanted to create pen for the process of 'Making Your Mark' , something you'd be proud to own and will want to carry every day to capture your thoughts and ideas."
October 26, 2012 | 2 Comments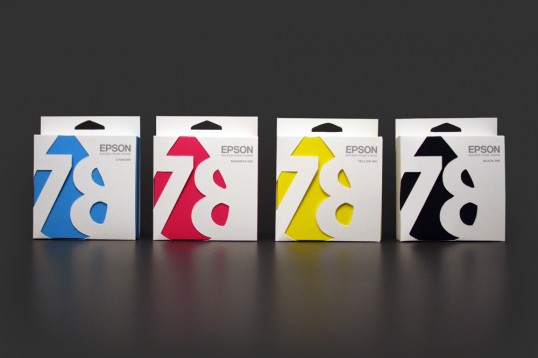 Designed by Ali Prater | Country: United States
"These are concepts I created for a new Epson ink cartridge packaging. I wanted them to have a clean and elegant disposition as well as a unique exterier, both of which distinctly separates them from their competition."
October 20, 2011 | No Comments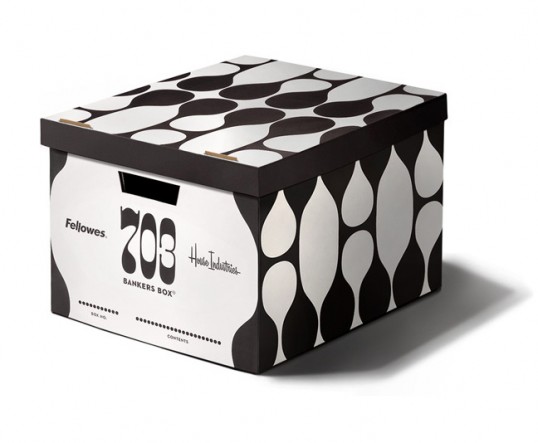 Designed by House Industries | Country: United States
"Fellowes flexographic corrugational Banjo H pattern model 703 Bankers Boxes exclusively for The Conran Shop Japan.
Working Banjo's stout serifs and spindly strokes around those bends, slots, scores and tucks required lots of cuttin' and compin'.
The Conran crew liked it so much that they commissioned a mini size to act as an invitation for their Case Study Reception party at their Marunouchi location.
July 1, 2011 | 18 Comments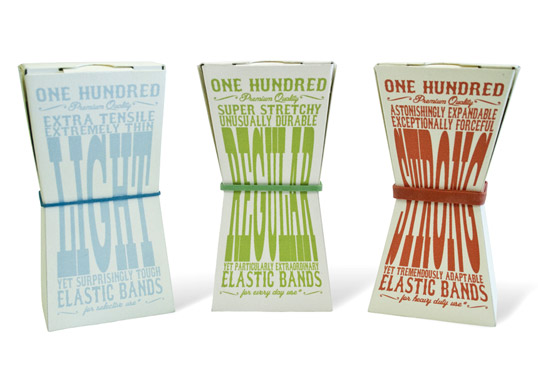 Designed by Ric Bixter | Country: United Kingdom
"The brief was to go into the pound shop and pick out something that seemed dull and completely re think the packaging of it. The idea is that the elastic band in the middle squeezes in the box and the strong the band, the most the box is squeezed."
May 20, 2011 | 3 Comments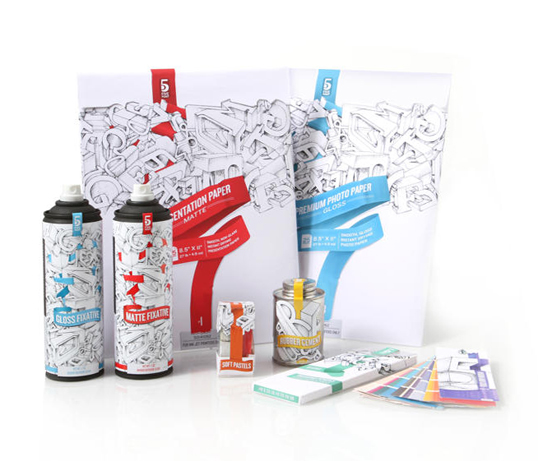 Designed by Ryan Bosse | Country: United States
Five Point art supplies are art products that appeal to the 20 to 40 year old artist. The in-store idea is that the detailed design will immediately catch the eye of any artist, being that every artist is detail oriented in someway. I wanted the design to be unique enough that no matter what isle in the store, when you see the elaborate design you automatically relate it to the great product you bought from Five Point previously, and therefore are inclined to buy more of the product.
The concept: Art is something that leads you through life and makes you look at it in a different perspective than anyone else. The ribbon represents a conceptual path and visual one, leading you from the logo to  the name of the product. The illustration literally represents a variety of perspectives.