November 15, 2013 | No Comments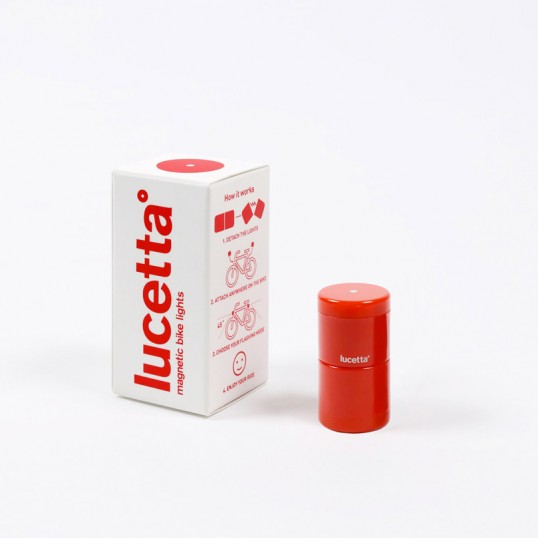 Designed by Alvvino | Country: Italy
"Lucetta is an innovative set of two small magnetic bicycle lights which confirms the creative partnership between Pizzolorusso and the Italian company Palomar. 
Easily attached to several different parts of a bicycle, the two small lights – white for the front, red for the rear – are switched on and off with just one click. 
Designed to stay securely in place on even the bumpiest of roads, the lights give the option of a steady, slow or fast flashing beam, also selected with a 'magic' interaction."
August 21, 2011 | No Comments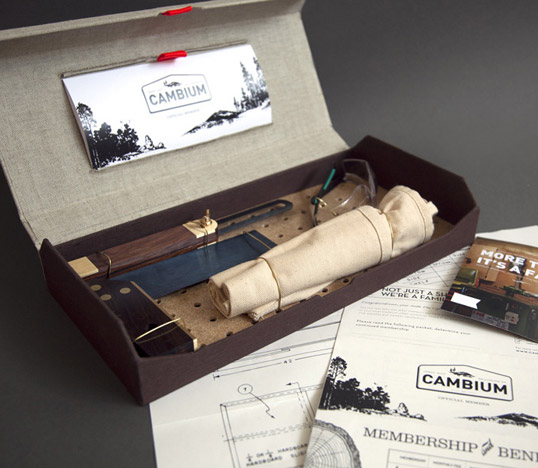 Designed by Stren Pipkin | Country: United States
"Cambium is more than a shop, its a family
Main demographic focuses on 50-60 yr male woodworkers who lives in the city but currently don"t have access to a shop. Members of Cambium pay a monthly fee to have access to industrial machines and tools. Once enrolled in the program members receive a canvas covered clam-shell box with magnetic closure and orange nylon detailing. Inside this box they will find a 4 piece kit of fine rosewood and brass tools, apron and safety glasses.
This concept focuses on 1940′s muted color scheme, traditional illustrations with modern styling."
June 14, 2011 | 3 Comments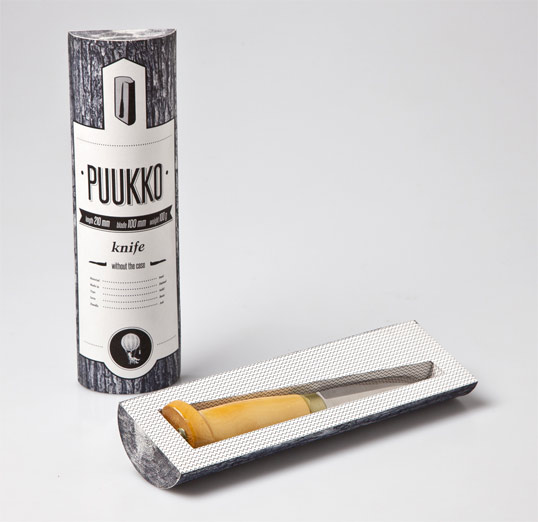 Designed by Kirill Ermoshin | Country: Russia
"Expedition is a shop in Russia which sells different goods for city dwellers which like to spend their free time in the country side. Picnics, and short  journeys are their specialities. What distinguishes them from other shops is that they are more about creating a story than just selling goods. They are full of the spirit of adventure and discovery with a sense of humor.  The shopping bags are made like a rucksack to emphasize company's character."
April 17, 2011 | 1 Comment
Designed by Orontas | Country: Canada
"Orontas is fundamentally about keeping things simple and being straight forward so we wanted the aesthetic of our 2011 Spring/Summer line to reflected that.
When we entered the cycling maintenance market last year with our Bike Care Lubricant in Canada we were overwhelmed by how cluttered it was with over sized product lines; some we're toxic, some are wax, some are synthetic, some are "green". It's all confusing to the shopper who really just wants a product that will get the job done without making them feel guilty about using because of it's negative environmental impact.
Our goal was to communicate transparency, even if it meant showing product imperfections, like sediment. That's the reality of working with natural ingredients; it is what it is and the proof is in the pudding.
December 2, 2010 | No Comments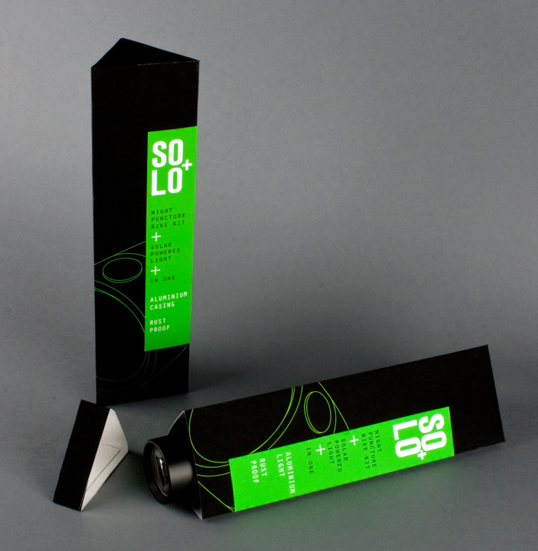 Designed by Tomas Ashe & Claire Buckley | Country: Republic of Ireland
"The project brief was to brand and design packaging based on a list of different kits for consumers. We chose a bicycle repair kit, our concept was to design a night time bike puncture repair kit that contained a solar light torch. The solar torch can be easily attached to the bike and designed to contain the puncture repair kit. The shape of the box is a reference to the shape of a prism of light. The colour scheme reflects the darkness of night and the fluorescent green represents the strong colour of visibility jackets often worn by cyclists."
November 12, 2010 | No Comments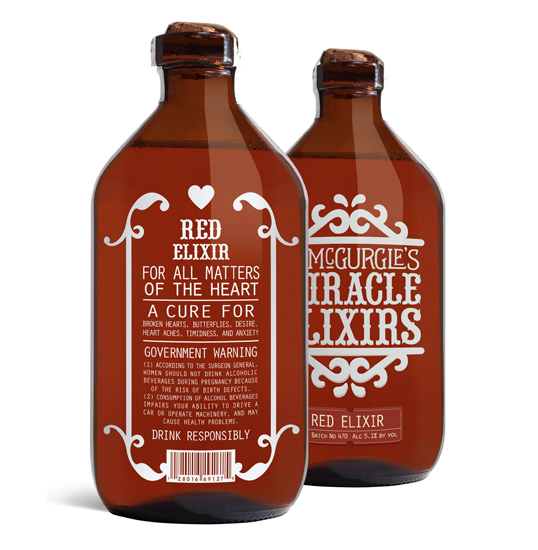 Designed by Adam Gerstner | Country: United States
"Lovestruck? Straining for that last drop of inspiration? Step right up! Dr. McGurgle's "elixir" ales cure all. New to the market, Dr. McGurgle's distinguishes their brand with a love of history, mysticism, lawlessness and deadpan humor. This 6-pack apothecary is an exclusive promotion giving customers a taste of the doctor's medicine."
October 28, 2010 | No Comments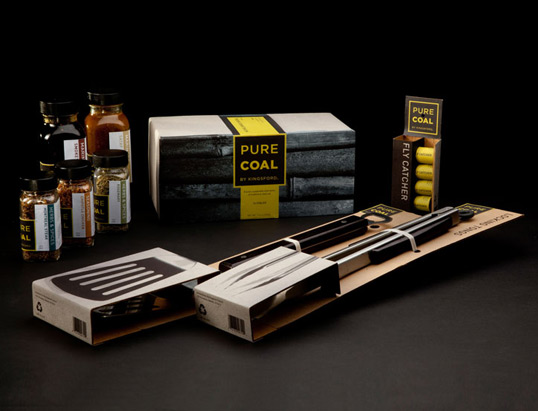 Designed by Winnie Yuen | Country: United States | Fonts: Gotham, FF DIN
"Pure Coal®, a 100% natural bamboo charcoal, is a sustainable alternative to traditional charcoal. The product offers consumers a delicious and playful barbecue experience, while maintaining the Kingsford's guarantee of quality."
February 27, 2009 | 3 Comments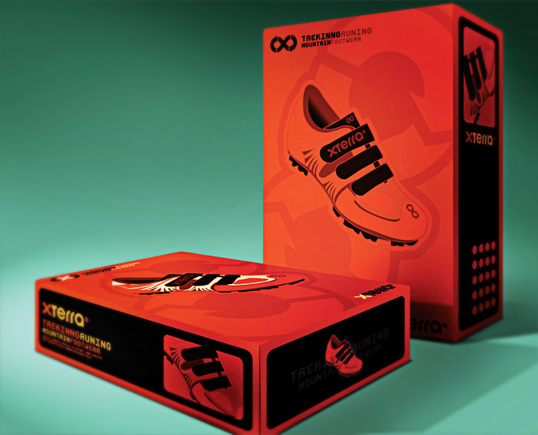 Designed by 'NN'SS™ | Country: Argentina
"Outdoor and extreme sports clothing. Brand and packaging redesign."
February 21, 2009 | 1 Comment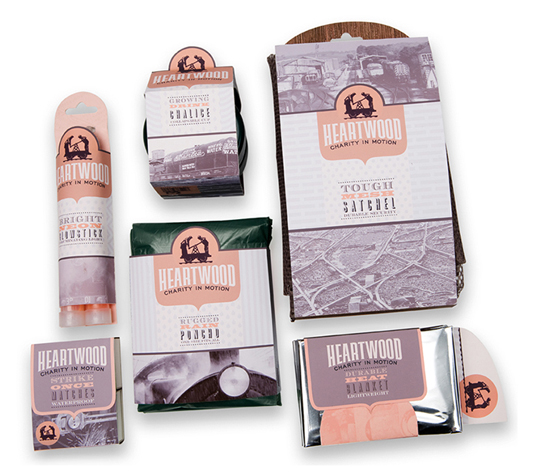 Designed by Jeff Krichmar | Country: United States | Fonts used: Chevalier, Blackoak, Sackers Gothic, Coliseum, Engravers Roman
"Line of travel gear bundled in pairs, to encourage charity in people."
December 23, 2008 | No Comments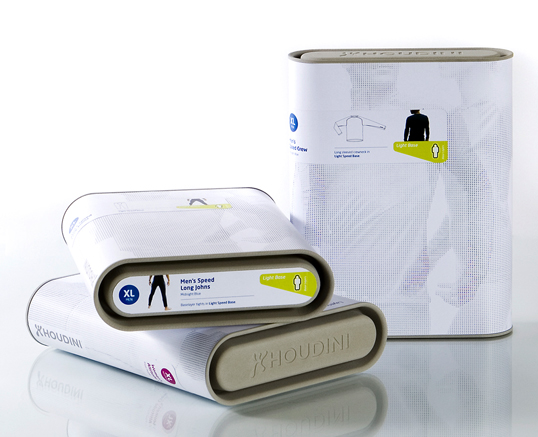 Designed by Propeller | Country: Sweden | Fonts used: Neo Sans
"Houdini develops sportswear that offers comfort regardless of the weather or level of exertion. Their products include base-layer clothing like micro-fiber undershirts and boxers, T-shirts and insulating long johns. What they needed from Propeller was a new kind of packaging that would communicate their values and make them stand out in stores.