March 31, 2011 | 1 Comment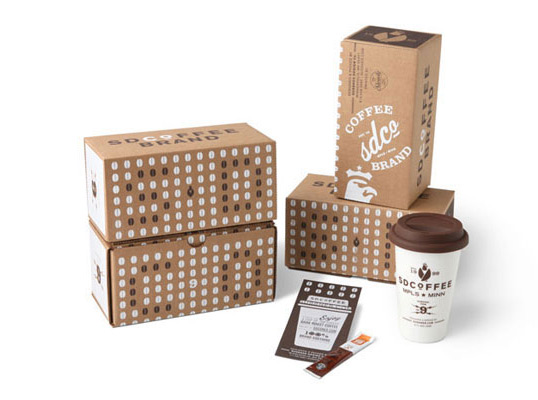 Designed by Sussner Design Company | Country: United States
"Every year Sussner Design Company designs a survival item to send to our friends, clients and new business leads. This year's survival item is a ceramic coffee cup that comes with a packet of instant coffee to be used for their first cup of joe. Also included is a card to inform recipients of our newly designed website. Its hard to go wrong with great coffee and design."
March 25, 2011 | 1 Comment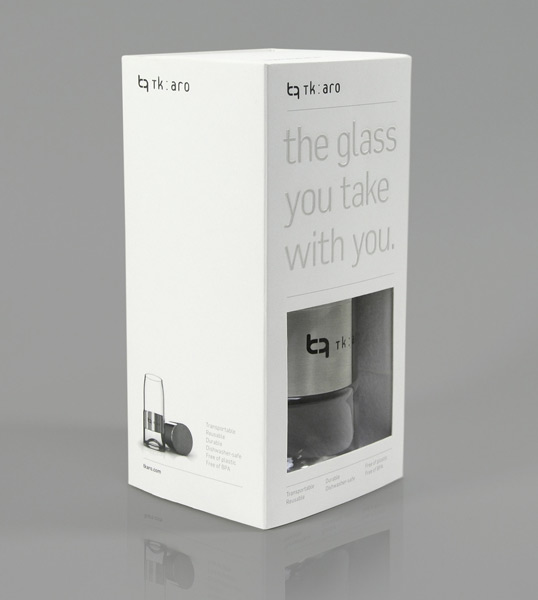 Designed by Monnet Design | Country: Canada
"To match the elegance of the product itself, we kept the design and copy to a minimum – focusing on creating a clean, bright package with hints of luxury (embossed logos on all sides, a foil-stamped message on the front and multi-level embossed photographs on the sides).
One package had to be created that could be used for all of the colours tk:aro will soon be offering. An added requirement was the need to showcase custom engraving on the front of the bottle – for example if a company had the lower metal rim of the bottles emblazoned with their logo, it would need to be visible. To address those concerns we added a custom die-cut window to the front of the packaging which reveals the color of the product as well as the engraved logo. We made a conscious decision not to have a larger PVC-covered front window, as the point of the reusable bottle is to eliminate the unnecessary use of plastics. The printed front was instead used to list some of its biggest selling features and to boldly proclaim what the product is: "the glass you take with you."
The packaging was printed on FSC-certified paper and the inner tray in which the product sits is molded from pulp which is made of 100% post-consumer fibers and is 100% compostable.
The tk:aro bottle is a reddot design award winner, 2010."
March 14, 2011 | 7 Comments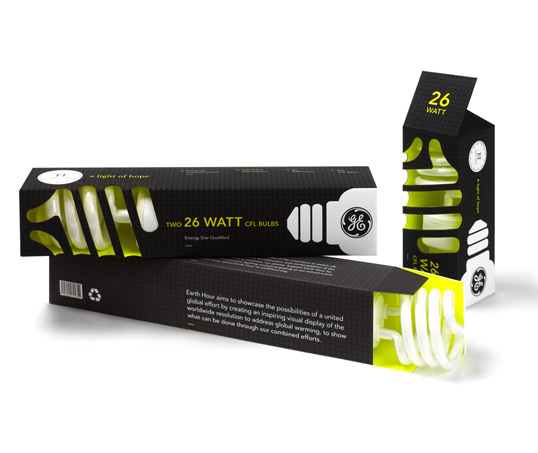 Designed by Chul Lee | Country: United States
"My assignment was to create awareness through a sponsored company and create a call to action for global warming awareness.
Earth Hour is creating awareness with the support of General Electric's lighting supplies. Informing the consumers to replace their bulbs, save money on their bills, as well as participate in the annual ritual of turning off the lights for one hour."
March 9, 2011 | 2 Comments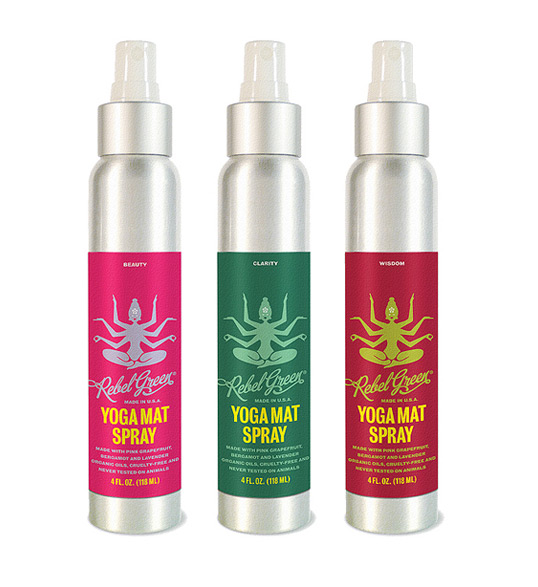 Designed by Wink | Country: United States
"A revolutionary new and effective solution to clean and preserve the life of yoga mats, straps and blocks. It works great on pilates equipment as well! Each of the three unique blends of lightly kissed essential oils inspire will your practice and your day."
February 23, 2011 | 2 Comments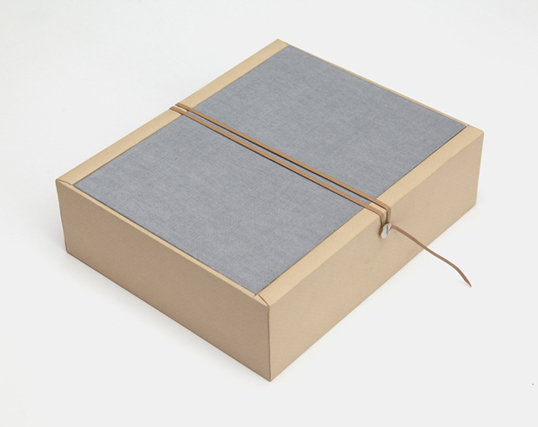 Designed by Jackson Dickie | Country: Australia
"Australian Forensic Investigations is a documentary style series which reveals how forensic and science techniques are used in the solving of major crime and accident cases. To communicate the intricate aspects involved in the series, a chest was designed with features such as a concertina with concealed magnetics, invisibly attaching each DVD case. The chests anonymous facade masks its immediate identification."
February 11, 2011 | 6 Comments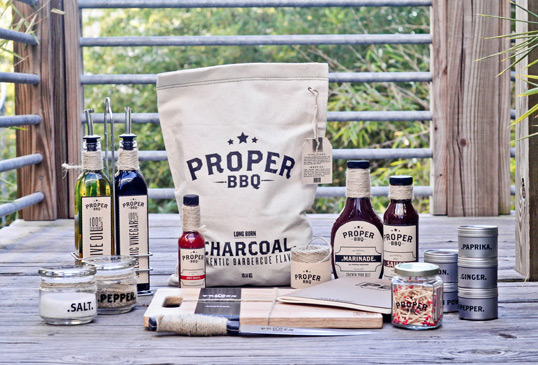 Designed by Tom Hayes | Country: United States
"Proper BBQ, enabling fine gentlemen to get messy. The range of products are essentials for the BBQ mad gentleman or the lavish messy hungry man, they were designed with a big bold punchy flavor in mind. Each product allows the user to get crazy and splash some charisma into their food, allowing each item to be generously applied."
February 10, 2011 | 4 Comments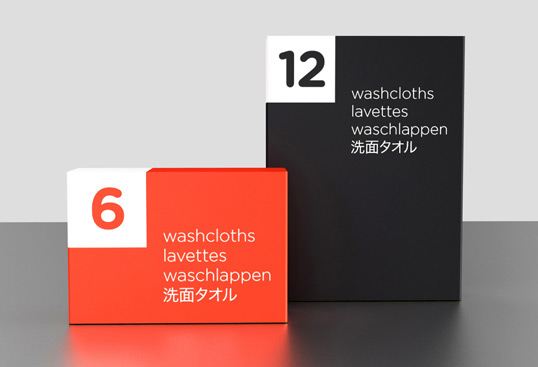 Designed by Jill Brown & Brian Paschke | Country: Canada
"Inspired by compressed emergency clothing found in Japan; these sugar cube-sized objects expand into full-size cleaning cloths when placed in water. To emphasize this miniaturization, the cubes are packed into little boxes approximately the size of an ordinary dish sponge.
Each box is assigned with a colour depending on its quantity for easy identification. The white cube graphic that wraps around the box clearly conveys actual size of the product. Minimal type and use of info-graphics makes this product internationally friendly."
February 7, 2011 | 2 Comments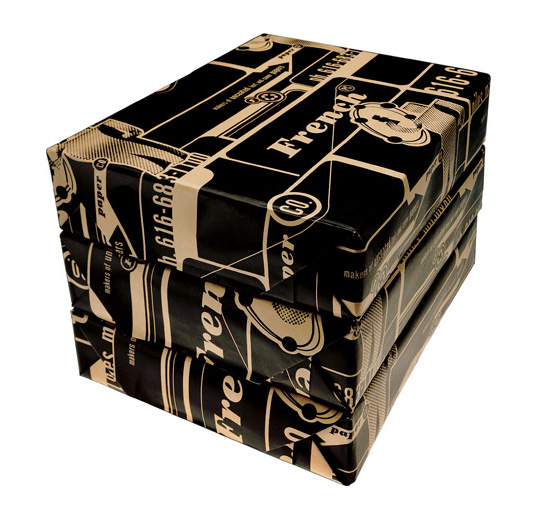 Designed by Charles S. Anderson Design | Country: United States
"Bulk paper, ream wraps, and carton boxes are at the core of the paper business, and sometimes they are all that French Paper customers see of their identity. These bold wrap designs, in black and kraft, are powerful visual reminders of America's most unusual paper mill."
January 31, 2011 | 2 Comments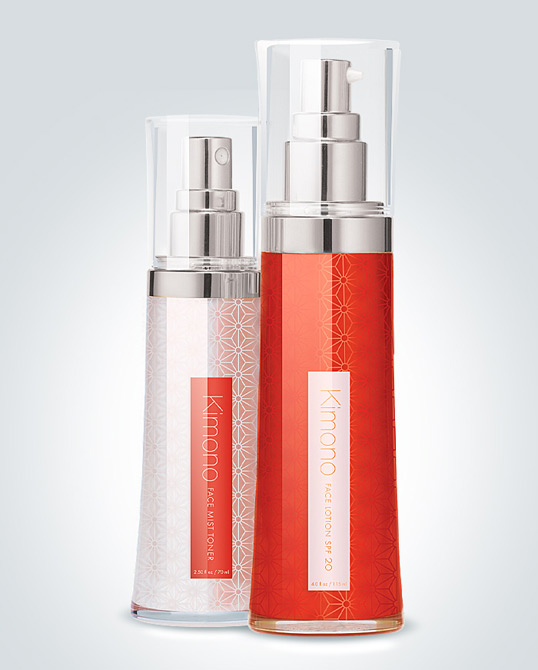 Designed by Belancio | Country: United States
"Kimono is a new luxury spa care line created to enhance the wellness of your skin, body and mind. The brand development included product packaging, logo development and art direction that captures the beauty and elegance of the entire line."
January 22, 2011 | 1 Comment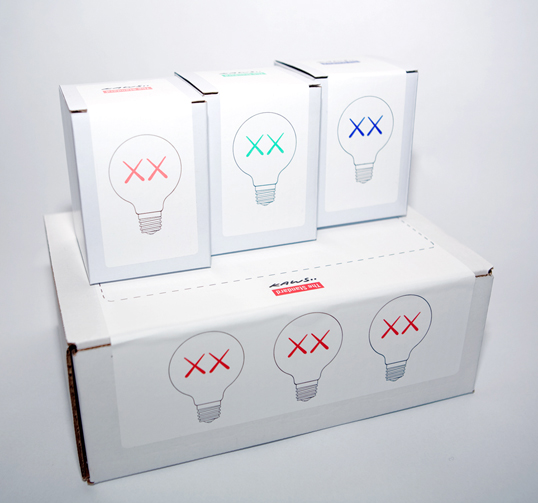 Designed by KAWS | Country: United States
Renowned artist KAWS and The Standard Hotel just launched their collaboration for limited edition filament light bulbs. Along with the light bulbs, 2 different types of KAWS pillows in multiple colors and KAWS companion key chains will be exclusively available for sale at New York shop.